Envelopes and Pockets for everyday office use
The Viking office supplies shop offers a wide range of envelopes and Pockets that will ensure that your letters and documentation reach their recipient safely. But which envelope should you use? To help you choose, we have put together some advice that summarises key information on envelope types, formats and sealing methods.
1. How to select the right format
Go to top

›
Envelopes and Pockets are available in a wide range of formats, standardised in accordance with 678.
An overview of all common formats can be found here:
Envelopes:

The flap is always on the long edge of the envelope.

Provides your documents with a professional and secure finish.
Ideally for commercial correspondence.

Our envelope product range ›

Pockets:

The flap is always on the short edge.

Provides your documents with a professional and secure finish.
Ideally for sending documents e.g. Contracts or References.

Our mailing bag product range ›
1.2 Envelopes (Open on the long side)
A4 Folded twice

Private letters
Greetings cards
Invitations

A4 Folded twice

Official and business letters

A4 Folded once
¹ Filled manually
² Filled automatically
³ Compact letter (up to 1 cm height and 80 g)
The abbreviations DL and DL+ stand for DIN long and DIN long plus respectively. The designation in accordance with the DIN 678 standard is C5/6 for DL and C6/5 for DL+. However, many sales outlets and online shops use DL or DL+ or the version written out in full.
1.3 Pockets (Open on the short side)
A4 Folded once or A5

Large greetings cards
Tax declarations
Brochures
Books

A4 not folded

Documents that must not be bent:

Letters of reference
Certificates
Applications
Contracts
2. How to select the right seal type
Go to top

›
Our office supplies product range includes the most common sealing options for pockets and envelopes. Find your preferred sealing method:

Gummed
Wet-adhesive or gummed flaps will keep your mail sealed for up to five years. Simply moisten the gummed strip on your envelope with saliva or a sponge and then seal the envelope. Wet-adhesive envelopes retain their adhesion for up to five years.

Peel and seal
Simply remove the protective strip from the adhesive side and press to seal the envelope. Here, the adhesion is also retained for up to five years.

Self-seal
Self-seal envelopes and pockets make packing the contents of your envelope even easier: with no need for moisture or protective strips, the flap will keep your envelope sealed for up to a year. Simply fold down the flap and press closed. The adhesion is retained for up to one year.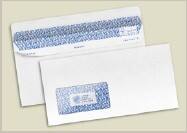 Revelope adhesive seal
This adhesive technology combines the benefits of self-seal and peel and seal sealing technology (adhesion retained for long periods).
Our storage tip: If you purchase a lot of pockets and envelopes at the same time as part of a large order of office supplies, we advise you to store them in a sealed box at room temperature. This will ensure maximum retention of the envelopes' adhesive strength.
3. How to select the right quality
Go to top

›
When selecting the correct envelope, you don't just need to consider the format and seal type — the quality also plays an important part.
At Office Depot, we want to make choosing the right product as convenient as possible, so we offer the following categories:
Economy *
Standard **
Premium ***
In addition to the paper quality, the degree of whiteness and transparency is also an important factor in differentiating between the individual categories.
4. Envelope and Pocket applications
Go to top

›
Our summary of the most common applications gives you a clear overview of our wide range of envelopes and pockets:
The classic business letter
For official letters and business mail (on standard A4 paper), the following envelope formats are used:
For C5/6 and C6/5 envelopes, A4 paper must be folded twice horizontally to fit inside. The surface area of the folded letter then corresponds to one-third of A4.
Sending documents
To avoid folding important documentation, such as contracts or letters of reference, C4 Pockets are often used. These pockets are slightly larger than paper in the standard A4 format, so documents fit inside easily.
C4 is available in both portrait (pocket) and landscape format (envelope).
Standard letter
The size of a standard letter according to Deutsche Post corresponds to the following:
The "classic" official letter in long format (C5/6)
The C6 format, which is used mainly for personal mail
The B6 and C6/5 envelope
Compact letter
For compact letters, the same envelope formats as for the standard letter can be used.
Large letter
For large letters, virtually all formats are permissible. The large letter is particularly popular when sending unfolded A4 paper — for certificates, contracts and applications, for instance. The weight of a large letter can total 500 g and the height can be 2 cm. They are therefore particularly well-suited for application documents, for example.
Maxi letter
The formats and the maximum envelope sizes are the same as for large letters. Almost all envelope formats are permitted for a maxi letter (B4, B5, B6, C4, C5, C5/6 (DL), C6/5 (DL+), C6).
The only differences between the maxi letter and large letter bands are the permitted height and weight of the letter. For the maxi letter, the height can be up to 5 cm while the weight can be up to 1 kg (1 kg of paper is approximately 190 A4 pages of 80 g/m2). This means that this format can be used to send magazines and annual reports.